Skip to Main Content
It looks like you're using Internet Explorer 11 or older. This website works best with modern browsers such as the latest versions of Chrome, Firefox, Safari, and Edge. If you continue with this browser, you may see unexpected results.
Teaching Resources for Historical Inquiry
VLC Bookmark
Logins for all VLC databases are found on the back of the VLC Bookmark.
Talk to your LCI today!
How to: Graphic Organizers
Wikipedia: How to Evaluate it and Use it Wisely
Top Picks
HISTORICAL THINKING CONCEPTS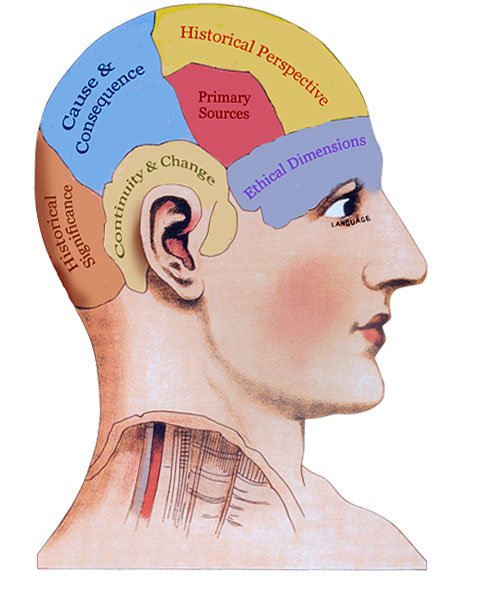 "HISTORICAL THINKING CONCEPTS." The Historical Thinking Project. Centre for the Study of Historical Consciousness, n.d. Web. 10 Dec. 2014. <http://historicalthinking.ca/historical-thinking-concepts>.
Want to learn more? Here's Information on Primary and Secondary Sources
Find Books on this Subject
Suggested search terms for Destiny:
researching
internet research
critical thinking
historical inquiry
A Smart Kid's Guide to Doing Internet Research

by

Whether motivated by curiosity or working on school reports, kids often use the Internet to do research. This helpful book covers everything from figuring out if a site is trustworthy to the importance of citing sources.

ISBN: 9781404281165

Publication Date: 2009-08-15

The Research Virtuoso

by

"I keep this book beside my computer all the time. It's astonishing how often I rely on it to guide me in making efficient, accurate research inquiries." - Bruce, Lawyer "I thought I knew my way around a search engine, but the tips in here improved my research strategies ten times over." - Rachel, college student The Research Virtuoso is an easy and thoroughly up-to-date guide to seeking, sourcing, and sorting information on any given topic. From card catalogs to Internet blogs, readers will find explanations on every kind of research tool available today and step-by-step advice on how to use them. At the library: How to make effective use of extensive print, audio, and video resources, as well as librarians. On the internet: Secrets to finding reliable, credible, and specialized websites, including accessing metasearch engines and the deep web. Each chapter breaks down the search process into manageable steps and offers hands-on suggestions for collecting data while maintaining a critical perspective. Along the way, examples from an ongoing sample research project illustrate how it's done, plus interesting tidbits discuss the changing role of technology. Complete with time-saving tips, recommended websites, and droll cartoons to keep things light, The Research Virtuoso is a passport to the rich possibilities of the information age. No one should log on without it.

ISBN: 1550379577

Publication Date: 2006-04-01

Research Ate My Brain

by

The ultimate cure for today's homework woes. The panic and doubt that comes with the assignment of a research project is no different today than it was decades ago. The advent of cyberspace, however, means that access to information today is greater and quicker than ever before, and that the way research is done has changed forever. How can students find their way through this information overload? Research Ate My Brain is here to help. Written in a breezy, humorous style, this handy handbook shows students how to master the vast and complex resources that are available. Each chapter breaks the research process down into bite-sized pieces: how to access invaluable library materials (books, journals, newspapers, databases, audio and video); secrets to successful surfing online; how to identify and source reliable research sites; best bets for fact gathering; and most importantly, evaluating and organizing all that information. Sidebars offer insights on everything from how to chat with an electronic librarian to finding obscure centers of dependable information around the globe. A slew of timesaver tips promote efficiency and maximize results.

ISBN: 9781550379389

Publication Date: 2005-09-03

Critical Thinking

by

Easy-to-follow text, colorful photographs and illustrations, and simple activities help students develop their critical thinking skills and apply those skills to their studies.

ISBN: 9781553884408

Publication Date: 2008
How to: Write a Paper / Essay
Copyright and Creative Commons
The Canadian Copyright Act is available through the link below, as is information regarding public domain through the Creative Commons:
Copyright Act

Table of Contents with hyperlinks discussing copyright and fair use.
Careers
Skills learned in history are beneficial for the following careers:
Editor
Journalist
Lawyer
Mediator
Museum Curator
Politician
Teacher
Actor
Community Worker
Musician
Tour Guide