NFB- Sovereignty and Resistance
Clips from the National Film Board that offer information about land claims, ancestral rights, and natural resource use.
Inherent Right to Self-Governance Timeline
Click on the interactive timeline in the right corner of the page to explore traditional and contemporary governments.
The Indian Act vs. Self-Government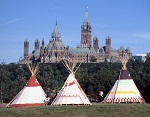 This resource explains how the Indian Act affects self-government.
Secret Life of Canada Podcast: The Indian Act

"In the newest episode of The Secret Life of Canada, co-hosts Falen Johnson and Leah Simone-Bowen look into the various forces that led Canada to the creation of the Indian Act, and the various ways it has defined and controlled Indigenous lives over the span of several generations. " Includes great list of reference websites.